It's an eerie coincidence that so many talented musicians and artists lost their lives at the age of 27, a phenomenon dubbed The 27 Club.
Set aside the various conspiracy theories about the unenviable club's membership and the unfortunate realities, in some of the cases, are the treatable diseases of addiction and mental health conditions.
Most experts in the scientific community balk at an alleged link between creativity and addiction.
Fame, though, has a way of warping a person's perception and not always for the best.
Constant media attention and fan adoration is a type of intense pressure that most common people have never experienced. The stress can lead to erratic behavior and the desire to escape through alcohol or drug abuse.
Detailed in a book titled "27: A History of the 27 Club," author Howard Sounes examines the lives of some of the club's more tragic members.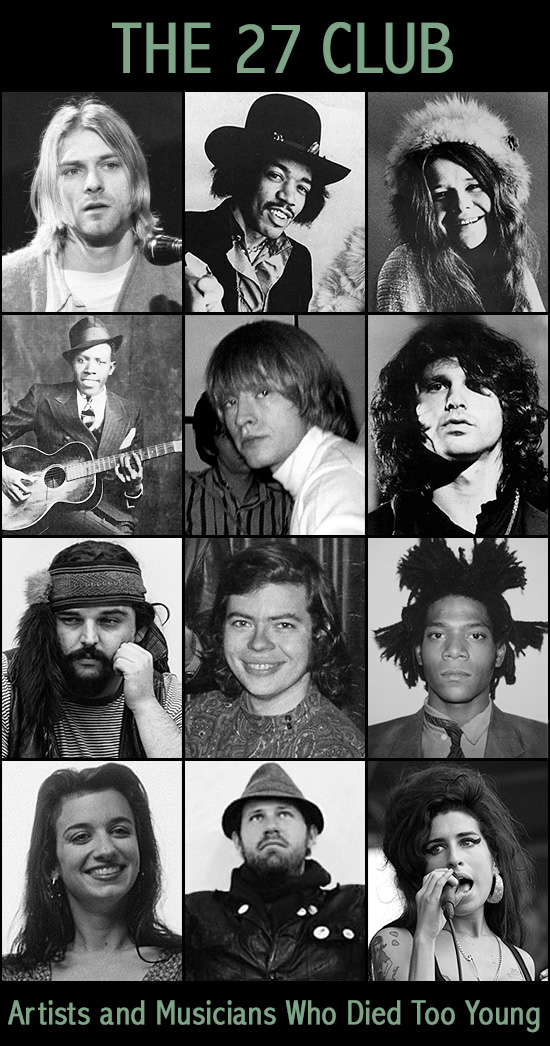 Sad Stories of Famous People That Died at the Young Age of 27
Kurt Cobain
"Now he's gone and joined that stupid club," Sounes reports Kurt Cobain's mother saying, after she learned of his suicide in '94."
Cobain and his wife, Courtney Love, famously dealt with an addiction to heroin.
The rocker also battled with desperation to which he succumbed, dying of a self-inflicted gunshot wound.
Jimi Hendrix
A blues and rock pioneer, Jimi Hendrix's musical rendition of the national anthem on electric guitar is iconic, though far from his only famous song.
On September 18, 1970, after a night of drinking, he swallowed several Vesparax, a powerful barbiturate and never woke up.
It's not clear if Hendrix new what he was taking, but those close to him suggest he'd become reckless.
"Jimi would take a handful of shit, not even knowing what it was," said friend Deering Howe, according to Rolling Stone.
Janis Joplin
Less than a month after Hendrix's passing, Janis Joplin, famous for her raspy rock and blues voice, heartfelt lyrics and hard living, overdosed on heroin.
She'd just returned from a recording studio in Hollywood where she'd recorded "A Woman Left Lonely."
Robert Johnson
Considered one of the founders of the Delta Blues sound, Robert Johnson was revered by '60s bands like The Rolling Stones and Cream, both of which covered songs by him.
At a roadhouse in August 1938, Johnson accepted a drink of whiskey from an open bottle of whiskey.
Three days later, he died of strychnine poisoning. It's believed the roadhouse owner poisoned him for making advances on his wife.
Brian Jones
Formerly a member of the Rolling Stones, Brian Jones was found dead at his home in England.
The coroner's report, dated July 2 to 3, 1969, stated the cause as "Death by misadventure."
It also noted that Jones' liver and heart were enlarged due to alcohol and drug abuse.
While there are theories that Jones was a victim foul play, others believe he simply mixed too many drugs and alcohol before diving into his swimming pool.
Interestingly, Jimi Hendrix and Jim Morrison wrote homages to him before joining the 27 Club themselves.
Jim Morrison
Front man for The Doors, Jim Morrison joined his girlfriend at her Paris apartment in March 1971.
During his time in the city, he kept a journal describing long walks throughout the city by himself.
Three months later, in July, his girlfriend discovered him dead in the bathtub at her apartment.
She's believed to have said his death was due to a heroin overdose.
The official cause of death – though no autopsy was done – is listed as heart failure.
Ron "Pigpen" McKernan
A member of the Grateful Dead, Pigpen had a well-known problem with alcohol.
It's alleged that he'd began drinking heavily by the age of 12 and was dealing with cirrhosis of the liver by his 20s.
He died of a gastrointestinal hemorrhage related to alcohol abuse in March 1973.
Alan Wilson
Nicknamed "Blind Owl," Alan Wilson played guitar for the band Canned Heat.
He was known to battle depression and had a habit of sleeping outside, which is where he was discovered dead, a bottle of the barbiturate Seconal by his side.
His death is listed as an accidental overdose, though at least one friend close to him believes Wilson committed suicide.
Jean-Michel Basquiat
This Brooklyn born artist had a reputation for brilliance. He could read by the age of 4 was fluent in two languages, besides English by 11 years old.
As a teenager, Jean-Michel Basquiat's father kicked him out of the house for dropping out of school. He later attended a school focused toward artistic kids who did poorly at conventional learning.
By 1986, Basquiat was a well-known and successful artist. After the death of his close friend, Andy Warhol, it's reported that the young artist isolated himself and escalated his addiction to heroin.
After one failed attempt at sobriety, Basquiat fatally overdose on heroin in August 1988.
Kristen Pfaff
Bassist for the Band Hole, which was fronted by Kurt Cobain's wife, Courtney Love, Kristen Pfaff attended Cobain's funeral.
Two months later, she was discovered, like Jim Morrison, in the bathtub of her Seattle apartment.
She died from a heroin overdose.
Jeremy Michael Ward
Sound manipulator for the band Mars Volta, Jeremy Michael Ward would sit offstage during live performances and tweak the band's sound to achieve it's unique avant-garde take on rock.
Less than a month before the band's wildly anticipated debut album, in May 2003, Ward fatally overdosed on heroin at his home in Los Angeles.
Amy Winehouse
Wildly successful, Amy Winehouse battled an addiction to alcohol, even releasing a song entitled "Rehab" about the attempts of her manager to get her treatment.
As the song relates, she said no, and five years later, in July 2011, she was found dead with a blood alcohol level some five times over the legal limit to drive.
Like Brian Jones, the corner's report lists her death as a result of misadventure.
Related:
What are the Dangers of Mixing ETOH with Other Drugs?
Signs Your Drinking May Be a Problem
Athletes That Have Struggled with Alcoholism and Addiction